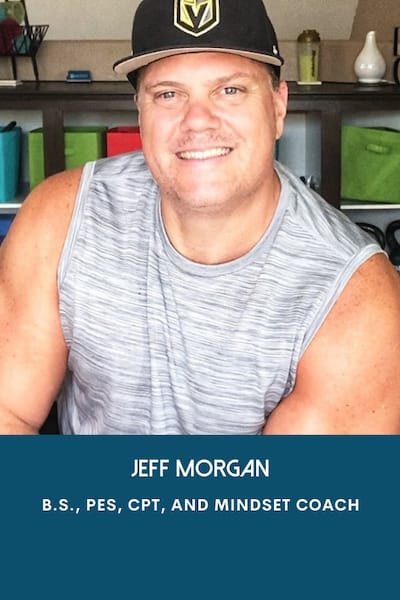 Jeff Morgan
JEFF MORGAN, CO-FOUNDER, B.S., CMC, PES, CPT
Online Personal Trainer, Online Coaching Personal Training
Jeff attended San Diego State University where he received his Bachelors Of Science in Psychology with an emphasis on Sports Psychology.
In 2003, Jeff started a fitness company with his wife, Carrie, and they decided to pursue their dream of helping as many people as possible to live a healthy life through proper nutrition and exercise.
As an online personal trainer, Jeff's specialty is Sports Performance and Mindset Coaching and has spent several years coaching athletes from all ages and skill levels. Jeff's coaching background includes working with juniors, high school, collegiate, and professional athletes.
With online personal coaching personal training, Jeff spends the majority of his time coaching clients on habit control and behavior modification for nutrition, exercise, and sports performance.
B.S. PSYCHOLOGY
CERTIFIED MINDSET COACH
NASM CERTIFIED PERFORMANCE ENHANCEMENT SPECIALIST
NASM CERTIFIED PERSONAL TRAINER
TRX CERTIFIED