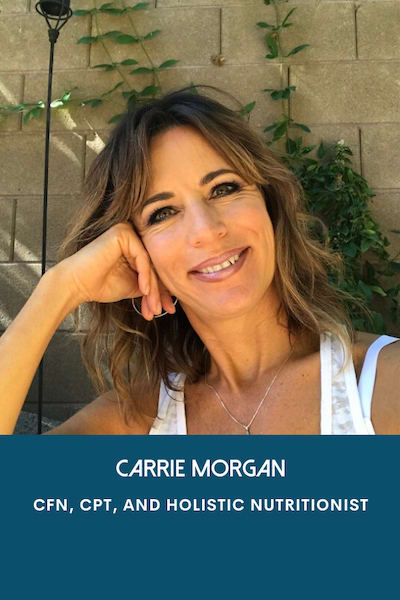 Carrie Morgan
CARRIE MORGAN
CO-FOUNDER, CHN, CFN, CPT
Online Nutritionist and Online Fitness Coach
After spending several years working as an Emergency Medical Technician in San Diego, CA, Carrie saw firsthand how good health could have prevented the majority of illnesses she treated in her ambulance.
In 2003, Carrie traded emergency medicine for preventative medicine and established herself as local Las Vegas Nutritionist expert specializing in woman's wellness
In 2007, Carrie was recruited by award-winning doctors at A Women's Place OB / GYN in Henderson, NV to spearhead a program dedicated to educating women about prenatal and postnatal nutrition and exercise. As a Henderson Nutritionist and Personal Trainer, Carrie was the lead Prenatal Las Vegas wellness coach for the Platinum Mommies Program, helping hundreds of women to achieve healthy pregnancies.
As an online nutritionist, Carrie's specialties include women's health, holistic nutrition, and therapeutic nutrition for medical diagnosis. Carrie has experience working with clients that have been diagnosed with diabetes, PCOS, high blood pressure, anti-inflammatory/autoimmune diseases, cancer, gastrointestinal disorders, kidney disease, and endometriosis. As an online fitness coach, Carrie also provides nutritional coaching for weight management, sports performance, and healthy eating.
Carrie is a published author and has written dozens of health and fitness articles.
CERTIFIED HOLISTIC NUTRITIONIST
NESTA CERTIFIED FITNESS & NUTRITION COACH
NASM CERTIFIED PERSONAL TRAINER
TRX CERTIFIED